Madrid
Are you planning to visit Madrid for a weekend or a few days? If you are, you are probably wondering what the city's top attractions are, how to get around Madrid or the general prices and daily costs to visit Spain's capital. For up to date information about the city, we recommend reading our Madrid travel guide. 
If you like our guide, don't forget to add it to your Favorites.
Why visit Madrid?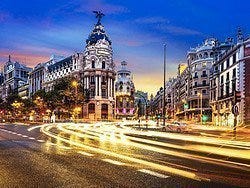 Gran Vía, the most famous boulevard in Madrid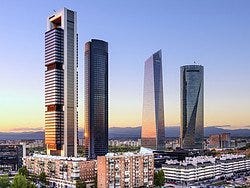 The four towers, the roof of Madrid
Madrid is the capital of Spain and the country's most visited city. With over 8 million visitors in 2015, Madrid is one of the most popular cities in Europe.
The number of foreign tourists who visit Madrid continues to grow due to its rich culture, its numerous landmarks, great nightlife and fun activities.
How to organize your trip?
Once you have chosen the dates, the most important thing is to determine how to get to the city, choose the right hotel and finally, read about Madrid's public transport system to know how to get around the city and discover its top attractions.
Once you have researched these aspects of Madrid, why not read a bit about its history?
Need accommodation?
The most complete guide to Madrid
We want to be your guide! That's why we have written a traveler's guide for travelers. Our Madrid travel guide includes our opinion, advice and suggestions on how to make the most of your holidays in Madrid, while saving money and time.
The information provided in this guide was updated in December 2016. If you find a mistake or would like to make a suggestion, please do not hesitate to contact us.