Sabatini Gardens in Madrid
The Sabatini Gardens (Jardines de Sabatini) are exquisite neoclassical-style gardens found on the northern façade of the Royal Palace in Madrid. King Juan Carlos I opened them to the public in 1978. 
Although the Gardens are named after the eighteenth-century Italian architect Francesco Sabatini, the royal enclosure was designed by another landscape architect. The green space was named in his honour for all his work as Great Master of Royal Works, and among his many creations, is the royal stable that once stood on the same site.
The Gardens, conceived after the proclamation of the Second Spanish Republic in 1931, measure two hectares. Laid out in a neoclassical style, the park is divided into three terraces with a pool, fountains, sculptures and shrubs ordered symmetrically and cut into pretty shapes.
A peaceful retreat
The Sabatini Gardens are not to be missed, since their privileged location by the Royal Palace makes them a necessary stop when visiting the Spanish Royal Family's dwelling.  
During the summer months, the elegant Sabatini Gardens feature "Los Veranos de la Villa", a great festival with live music and various cultural events.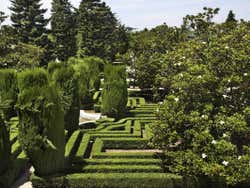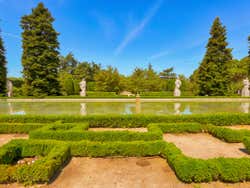 Schedule
October - April: Monday - Sunday from 9am to 9pm. 
May - September: Monday - Sunday from 9am to 10pm. 
Transport
Metro: Ópera (lines 2 and 5) and Sol (lines 1, 2 and 3). 
Bus: lines 3, 25, 39, 46, 75, 138, 148, C1 and C2.