El Rastro is a flea market located in historic center of Madrid, in the popular neighborhood of La Latina. It opens every Sunday and every bank holiday.
This lively open-air market is over 400 years old with stands that sell everyday objects as well as unique and curious items.
The Rastro Market is located along the street La Ribera de Curtidores and its adjacent lanes. Ribera de Curtidores is a steep hill with hundreds of stands selling extremely varied objects, from kitchen utensils, clothes, furniture, accessories, jewellery and comic books.
A curious name
The name of the flea market "El Rastro" meaning "the trail" comes from the tanneries that used to exist in the area. When the animals were transported from the slaughterhouses to the tanneries, they would leave a trail of blood and hence the name of "El Rastro".
Specialized stores and street sellers
The adjacent streets of Calle Ribera de Curtidores sell specific products. These are some of the most popular:
Calle Fray Ceferino González: This street is known as the "Bird street", due to the street vendors that used to sell birds and other animals. Nowadays there are still a few shops which specialise in birds.
Calle de San Cayetano: This street is also called "Painters' street". It has several shops that sell paintings and works of art, as well as painting tools.
Calle de Rodas, Plaza del General Vara del Rey and Plaza de Campillo del Mundo Nuevo: These streets are known for the trade of magazines, cards and stickers.  
Calle del Carnero and Calle de Carlos Arniches: These streets specialise in the trading of used books.
Very pleasant, but be careful
Although it can get very crowded, it is a great place to go for a stroll and get some unique Spanish souvenirs on any sunny Sunday morning or bank holiday. We suggest having some tasty tapas in any one of the many bars and restaurants in La Latina once you are tired of visiting El Rastro.
We recommend keeping an eye on your bag or wallet and mobile, especially on the busiest streets, as pickpockets operate in the area and prey on distracted tourists.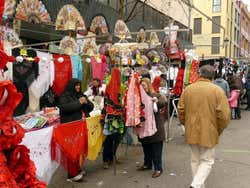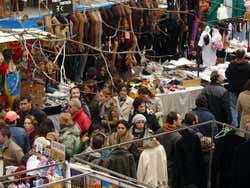 Schedule
Sundays and public holidays: 9 am – 3 pm
Transport
Metro: La Latina, line 5; Embajadores, line 3; Tirso de Molina, line 1.