Thyssen-Bornemisza Museum
The Thyssen-Bornemisza Museum is one of the most popular art museums in Madrid. Together with the Reina Sofía Museum and the Prado Museum, it forms the Golden Triangle of Art.
The Thyssen's extensive collection contains nearly 1,000 works of art. It is managed by the Thyssen-Bornemisza Collection Foundation, an institution set up when the Spanish government purchased the collection from the Thyssen-Bornemisza family in July 1993. Since 2004, it also houses the Carmen Thyssen-Bornemisza Collection.
Palacio de Villahermosa 
The museum is located in a beautiful palace called "El Palacio de Villahermosa". It was built at the end of the eighteenth century and is a clear example of neoclassical architecture from Madrid.
The Museo Thyssen is spread out on three different floors. To discover the evolution of European painting, the various movements, styles and renowned artists, we recommend starting on the second floor, then exploring the first floor and lastly, the bottom floor. The museum covers seventeenth to twentieth-century art and includes paintings by world-renowned painters like Van Gogh, Kirchner, Hopper, Gauguin, Rubens and Frans Hals.
The Thyssen-Bornemisza Museum has an impressive collection that complements the other two most important art museums in Madrid and is well-worth visiting.
Official website: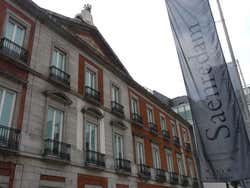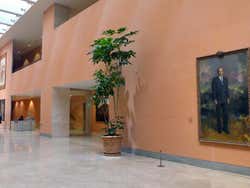 Schedule
From Tuesday to Sunday: 10 am – 7 pm.
Monday: 12 pm (noon) – 4 pm
Transport
Metro: Banco de España, line 2.