The Cuatro Torres (Four Towers) symbolize Madrid's most modern and futurist area. The construction of the four skyscrapers began in 2004 and they were inaugurated between the end of 2008 and beginning of 2009.
The complex's official name is Cuatro Torres Business Area (CTBA).
The site where the towers currently sit was previously owned by the Real Madrid, one of the city's most important football teams, which they used as training facilities. Nowadays, the area has been decorated with various green spaces and fountains.
The Four Towers are currently the highest buildings in Spain and some of the tallest in the European Union.
Torre Espacio
The Torre Espacio stands 755 feet (230 m) tall and has 57 floors. It houses the offices of several reputed companies and various embassies.   
Torre de Cristal
Designed by the Argentinian architect César Pelli who is also responsible for the Petronas Towers in Kuala Lumpur, the Torre de Cristal (Glass Tower) is the tallest skyscraper of the Four Towers at 817 ft (249 m).  
Torre PwC
Out of the four skyscrapers, the Torre PwC is the only one built by Spanish architects: Carlos Rubio Carvajal and Enrique Álvarez-Sala Walter. It is 774 ft (236 m) tall and has 52 floors. The tower was renamed Torre PwC due to the firm Price Water House Coopers moving its offices to this building in 2011.
This tower houses one of the city's most expensive luxury 5-star hotels, Eurostars Madrid Tower. The hotel owns up to the 31st floor. It also has a two-storey dining room with panoramic views of Madrid on the last two floors of the tower.
Torre Cepsa
The Torre Cepsa was formerly called Torre Caja Madrid and is the second tallest building in Spain, after Torre de Cristal. It was designed by Norman Foster and is the most curious of the four skyscrapers.
Repsol, one of the most important energy companies in Spain, was going to use this building as its headquarters; however, it was finally bought by Caja Madrid and in 2016, it was acquired by Armancio Ortega, founder of Zara.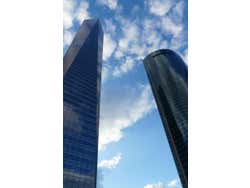 Transport
Metro: Begoña: line 10.