Madrid Atocha Train Station
Atocha Railway Station is the main station in Madrid. The capital's first train station was inaugurated in 1851 under the name "Estación del Mediodía" (Midday Station). In 2018, Atocha served over 15 million passengers.
The station has been renovated and enlarged on several occasions. In 1888, the building was partially destroyed by a fire, and between 1985 and 1992, the station was enlarged four times its original size.
After the renewal project, the station was divided into three: Madrid-Puerta de Atocha, Madrid-Atocha Cercanías and Atocha Renfe (metro station). Atocha Cercanías and Atocha Renfe form a large transport interchange that connects various means of public transport.
Tropical Garden
Atocha's covered tropical garden is located in the old part of the train station, which was transformed into a foyer in 1992. The garden has over 500 different species of animals and plants. Although, the most popular inhabitants of the garden are the little turtles.
The tropical garden is a quiet and relaxing space that offers an excellent counterpoint to the hustle and bustle of train stations.
11-M Attack
On the morning of 11 March 2004, four commuter trains exploded in Atocha killing 191 people and injuring 1,800. It was the worst terrorist attack in Spain and Europe and marked a milestone in the history of Madrid.
The 11 March 2007, a memorial dedicated to all the victims was inaugurated just outside one of the entrances to Atocha.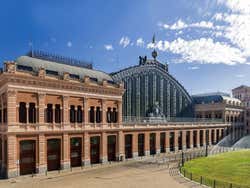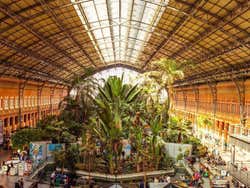 Transport
Metro: Atocha Renfe, line 1 (light blue line).
Buses: 47, 55, 19, 85, 10, 24, 57, 102 and C.