Situated in the neo-classical palace once owned by the Marquis of Matallana, the Museum of Romanticism (Museo del Romanticismo) is a house museum that reflects the city life of the gentry of Madrid during the Romantic period. 
The historic house museum offers the vision of a dream world in which the power of a family was determined by their possessions. At the end of the eighteenth century, the mansions in Europe were excessively ornate, as part of the predominant Romantic period.
Visiting the historic house
The most surprising and appealing part of the house is the ball room, the living space packed with beautiful and flashy antiques and works of art. Large mirrors reflect the soft walls lined with gold-colored silk and the chandeliers highlight the heavily decorated ceiling.
Throughout the museum you'll get a sense of how "free" the Romanticism movement was. There are several areas of the house that are either very feminine or very masculine, others that are extremely practical while others are especially elegant.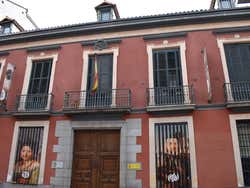 Schedule
November - April:
Tuesday to Saturday: 9:30 am - 6:30 pm.
Sundays and public holidays: 10 am - 3 pm
Mondays: closed
May - October
Tuesday to Saturday: 9:30 am - 8:30 pm.
Sundays and public holidays: 10 am - 3 pm.
Mondays: closed.
January 1st and 6th: closed.
May 1st: closed.
July 16th: closed.
December 24th, 25th and 31st: closed.
Price
Entrance: € 3 (US$ 3.20)
Students and over 65s: € 1.50 (US$ 1.60)
Sundays and Saturdays: free entrance from 2 pm onwards. 
Transport
Metro: Tribunal (lines 1 and 10); Alonso Martinez (lines 4, 5 and 10)
Bus: lines 3, 37, 40 and 149