Located in Plaza de San Miguel, next to Plaza Mayor, the historic Mercado de San Miguel (Market of San Miguel) is a charming covered food market that retains its original twentieth century iron structure.  
Looking back
The site where the food market currently stands was once home to San Miguel de los Octoes Church, which was built attached to the City Walls. In 1790 the temple was destroyed by a terrible fire, and in the following years it was restored, but in 1809 it was demolished once and for all as it had not been well looked after.
The space left by the church was transformed into a public square. Soon it was occupied by an open-air food market, where the perishables were placed in wooden boxes and on stalls. Mid-nineteenth century the authorities wanted to change the unhealthy conditions of the market, as well as the fact that it was causing traffic jams in the surrounding streets. The solution was to design an indoor market with an iron structure, inaugurated in 1916.
In 1999 the Market was restored conserving its original image. Nevertheless, its installations were not large enough to compete with modern supermarkets and shopping centres, and thus it was doomed to fail. Luckily, a group of citizens formed a society to save it, trying to improve its traditional activity, transforming it into a must-see tourist attraction in the centre of Madrid.
The Market nowadays
Nowadays, the Market of San Miguel is the only market in Madrid with an iron framework. It has become one of the most popular tourist attractions, offering multiple stands with vegetables and fruit, but also local "tapas".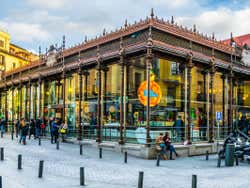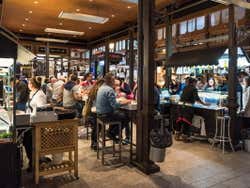 Schedule
Monday, Tuesday, Wednesday, Sunday: 10am to midnight.
Thursday, Friday, Saturday: 10am to 2am.