How to get to Madrid
Madrid is a very well connected city nationally and internationally by train, air and road. It is the center of the Spanish railway network, it has very good road network and the main international airport is just 8 miles (13 km) from the city center.
By plane
All flights, whether low-cost or standard carriers, fly into the main international airport in Madrid called Adolfo Suárez Madrid Barajas Airport, which is extremely well connected and close to the city center.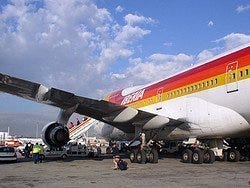 Iberia, Spain's flag carrier
Traveling from the U.S. 
Several airlines offer inexpensive and direct flights between the U.S. and Madrid, especially from New York City and Chicago's O'Hare Airport. A direct flight costs approximately $500 in off-season and $1,000 peak season.
These are the main carriers:
Traveling from Canada
Air Canada is the only airline to offer non-stop flights between Toronto and Madrid, with other carriers such as Iberia and British Airways offering 1 or 2 stop from Montreal or Toronto.
Traveling from Australia
There are currently no airlines that fly directly from any part of Australia to Spain's capital, but the main airlines like Emirates, British Airways and Qatar Airways offer several flights with just 1 or 2 stopovers.
Traveling from Europe
There are several low-cost carriers that fly to Madrid from different cities in the United Kingdom, taking just a little over 2 hours. These are the main airlines and cities:
By train
Madrid's main two railway stations are Chamartin and Atocha. Depending on where you come from, you will get to one or the other.
The AVE (Alta Velocidad Española) is a modern high-speed train in Spain, which connects Madrid with Barcelona, Valencia, Seville, Cordoba, Alicante, Cuenca, Albacete, Villena, Malaga, among other Spanish cities. AVE trains are very comfortable with short travel times and are normally punctual. Nevertheless, the tickets are a little expensive. If you want something a little cheaper, we recommend checking out Avant and Alvia tickets or Altaria.
To see the schedules and rates, check out AVE's official website:
By car
You can also get to Madrid by car from other parts of the peninsula or other European cities and towns. To plan your itinerary, we recommend Google Maps: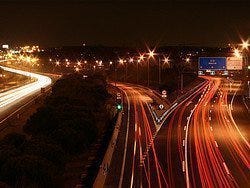 Getting to Madrid city center on the A6
Where to park in Madrid
If you drive to Madrid and your hotel doesn't have parking (or you prefer to find something cheaper), you can use Parclick, a website which helps you find and book cheaper parking space.