The Teatro Real of Madrid is one of the most important opera houses in Europe, as well as most of the most symbolic landmarks of the city. The imposing building is located in a beautiful enclave in the Plaza de Oriente, in front of the imposing Palacio Real.
History of the Teatro Real
The building was commenced in 1818 and inaugurated in 1850. During the first 75 years, it was considered one of the most important theatres in Europe, until part of the edifice collapsed and had to be closed to the public for 41 years.
In 1966, it was reopened, and its rooms had been converted into a symphony orchestra concert hall. It was later subject to a nine-year reform and was transformed into an opera house.
Visiting the Teatro Real
Accompanied by an audio guide with interesting pre-recorded commentary in English and other languages, visitors can explore the various halls and rooms of this elegant building, as well as discovering the royal box to contemplate the stage from the best seats of the opera.
The theatre has 1,800 seats (depending on the stage) and an impressive stage house with moveable platforms, so that the various stages can be combined, making all performances extremely impressive.
Guests can also walk up to the terrace to enjoy the views of the majestic Plaza de Oriente with the Royal Palace in front, or marvel at the old ballroom, which has been transformed into a restaurant. This hall has a surprising ceiling full of beautiful stars.
This painted ceiling represents the night the old royal theatre was inaugurated on, since the first building had an open top stage. Currently, thousands of led lights make up the stars that shone down on a starry-night in 1850.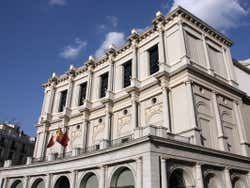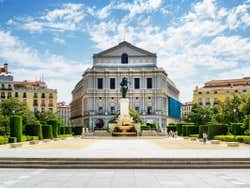 Schedule
Every day: 10:30am - 4:30pm (in August it is opened until 6:30pm). 
Price
Adults: € 7 (US$ 7.40) (with audio guide).
Youth under 26 and seniors over 65: € 6 (US$ 6.40).
Youth under 5 years old: free entrance. 
Transport
Metro: Ópera (lines 2, 5 and R) and Sol (lines 1, 2 and 3).
Buses: lines 3, 25, 39 and 148. 
Trains: Sol