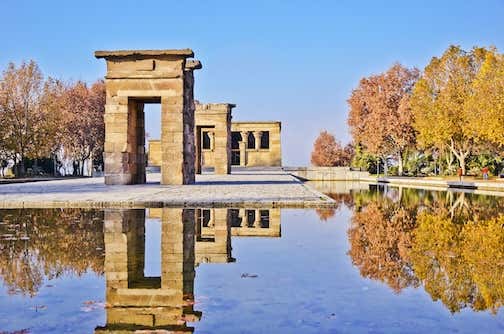 The Temple of Debod is one of Madrid's most beautiful hidden treasures. It sits to the west of Plaza de España, in the Parque del Oeste.
This ancient Egyptian temple is from the second century B.C. and was donated to Spain by the Egyptian state for helping save the Abu Simbel temple, as well as other monuments and archaeological sites, from being buried under the construction of the Aswan High Dam.
The Debod Temple was dismantled and transported to Spain, but it took two years to rebuild, since there were no reliable blueprints of the structure and some of the stones got lost during the shipment and had to be replaced. Finally, Debod was opened to the public on 20 July 1972.
In the early seventies, the temple was not properly kept and the Park was considered unsafe. However, nowadays, the Oeste Park is a favourite green space for locals. As well as housing the Temple of Debod, it has a beautiful rose garden and great views of the Casa de Campo. As for the temple, the city council is making efforts to preserve it.
Visiting the Temple of Debod
The Temple is surrounded by numerous species of plants, trees and lush, green lawns. Many locals gather here in spring, summer, autumn and winter with drinks and picnics or come here to do some yoga or just to simply relax and enjoy the views. The best time to visit Debod Temple is just before the sun sets, ensuring a breath-taking view of the Temple in all its splendour with a beautifully lit sky in the background. If you stay a little longer, it is also worth seeing the monument lit up at night.
The shrine's interior is free to visit and is well worth exploring. Although it isn't as well preserved as other Egyptian temples, its walls are covered by hieroglyphics and sculptures and it also includes interesting information about Egypt's mythology and society. Moreover, on the upper floor is a curious miniature with the various temples in Nubia.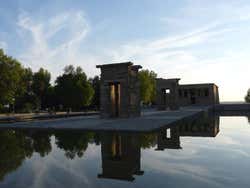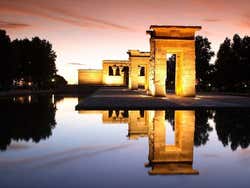 Schedule
Tuesday - Sunday and public holidays: 10am - 8pm.
Monday: closed.
24, 25, 31 December: closed.
1, 6 January: closed
1 May: closed