Madrid Metro is the fastest and most efficient means of transport to get around the city. The first metro line was constructed in 1919 and connected Sol with Cuatro Caminos.
Nowadays, the metro system has 13 lines and 301 stations, as well as 3 light rail (Metro Ligero) lines, these are low trams that connect the peripheral parts of the city.  
Madrid Metro is approximately 293KM long, making it the seventh longest metro system in the world, after London, New York, Shanghai, Tokyo, Moscow and Seoul.
You can check the metro map via the following link:
Fares
To use the metro, you must get a Multi card, a top-up card which costs € 2.50 (US$ 2.70).
If several of you are traveling together you don't need more than one card: several people can use the same one.
Once you have the card you can top it up with whichever kind of ticket you want to use. You can consult the different tariffs and the tickets available via the following link:
Where to buy tickets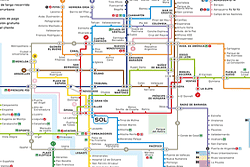 Map of Madrid Metro
Tickets are valid for both the metro and the bus system, and children under 4 may travel without a card.
You can get a rechargeable card in the automatic red machines, tobacco shops, and other authorised sales points.
You can top up your card at any of these places, except for the tobacco shops.
Running times
The metro runs every day from 6 am until 2 am (The last train leaves the first metro station at 1:30 am).
Unusual facts about the Madrid Metro
The first trains were brought from Paris and were second-hand.
Queues of people formed the day the metro was open to the public and 56,220 people used the metro on that day.
The metro stations were used as an air raid shelter during the Civil War.
During its early years, the metro sold "first-class" and "second-class" tickets.