The Círculo de Bellas Artes of Madrid (CBA) is one of Europe's most important private cultural centres.
Founded in 1880 by a small group of artists, it is characterised by its support of the most innovative artistic trends, covering visual and performing arts, literature, science, and philosophy.
The Círculo de Bellas Artes features over 1,200 works of art including paintings, sculptures, engravings and furniture, as well as a collection of over 3,000 books and historic documents.
The centre's main objective is to exert artistic and cultural influence, for which it organizes exhibitions, conferences, workshops, concerts and an endless number of activities, as well as publications.
The building
In 1981, the cultural centre, located between Calle Alcalá and Gran Vía, was declared "Bien de Interés Cultural" (a national historic-artistic monument) due to its great architectural value.
The building was designed by several renowned architects and has an impressive monumental façade on different levels.
The rooftop
The best part of the Círculo de Bellas Artes is its trendy and very popular rooftop with stunning views of the city centre, especially Gran Vía and la plaza Cibeles. In spring, summer and autumn you can order relatively cheap drinks while enjoying the beautiful views.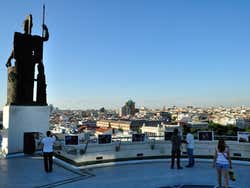 Schedule
Rooftop: Monday to Friday: 9 am - 10:30 pm.
Saturdays, Sundays and bank holidays: 11 am to 10:30pm (the opening hours can vary on certain days).
Price
Rooftop
Adults: € 4 (US$ 4.30)
Youth Card: € 3 (US$ 3.20)
Exposition Halls + Rooftop
Adults: € 5 (US$ 5.40)
Youth Card: € 4 (US$ 4.30)
Transport
Metro: Sevilla and Banco de España, line 2.
Bus: lines 1, 2, 5, 9, 14, 15, 20, 27, 45, 46, 51, 52, 53, 74, 146, 147 and 150.