The Teleférico de Madrid, the city's cable car, is a great way to discover Madrid from above. You'll enjoy impressive views of the top attractions, including the Royal Palace. 
The inauguration of Madrid's only cable car, the Teleférico de Madrid, was postponed various months due to the complaints of the neighbours who were concerned that visitors would see inside their windows while travelling on the cable car. Finally, it was opened to the public in 1969. Since then, it has become one of the best-liked attractions in Madrid.
Riding on the Teleférico
The Teleférico has eighty cabins, each with a maximum capacity of six people. The cable car runs between Parque Oeste, in central Madrid, and Casa de Campo, the capital's largest park. The whole distance is 2.5 kilometres, taking eleven minutes to get from one station to the other.  
During the journey, passengers will rise 40 meters above ground level to admire some of the city's most important landmarks like Almudena Cathedral and the Royal Palace of Madrid.
The Teleférico de Madrid is not considered one of Madrid's top attractions, but every year it offers its service to over 300,000 passengers. The capital's cable car is a great option for children and families.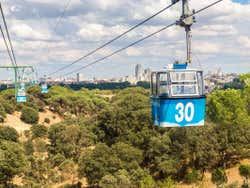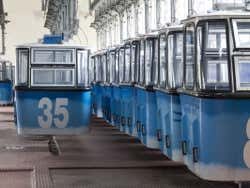 Schedule
Normally it opens at 11 am and closes at 7 pm. (In summer it closes at 8 pm or 9 pm).

The schedule varies depending on the season. We suggest you check the opening hours on the official Teleférico de Madrid website. 
Price
One-way journey:
Adults:€ 4.50 (US$ 4.80)
Children from 4-12 and seniors over 65: € 4 (US$ 4.30)
Return journey:
Adults:€ 6 (US$ 6.40)
Children from 4-12 and seniors over 65: € 5 (US$ 5.30)
Children under 4: free